Founder
Louis
Gattefossé
1854 → 1919
Louis Gattefossé is the founder of the company. He first worked in the beer trade, then started in 1894 to sell aromatic raw materials.
Read more
The story of Gattefossé began in 1880 when a 26-year-old Louis Gattefossé moved to Lyon.
He was with his wife Marie-Eugénie and their two children, Abel and Marie-Louise (Louis and Marie-Eugénie would go on to have five children in total: Abel, Marie-Louise, René-Maurice, Robert and Jean).
Louis had been managing a beer warehouse further north in Vesoul (the Haute-Saône region of France) but had just been recruited as a salesman for Seghers & Maréchal, a Lyon-based oilcloth manufacturer. Louis's sales portfolio steadily expanded beyond oilcloth to include photographic paper, petroleum jelly, mineral waxes and oils derived from petrol. And soon he was carrying a set of sample products, most of which were created through chemical processes, and would later be used as raw materials in Gattefossé products.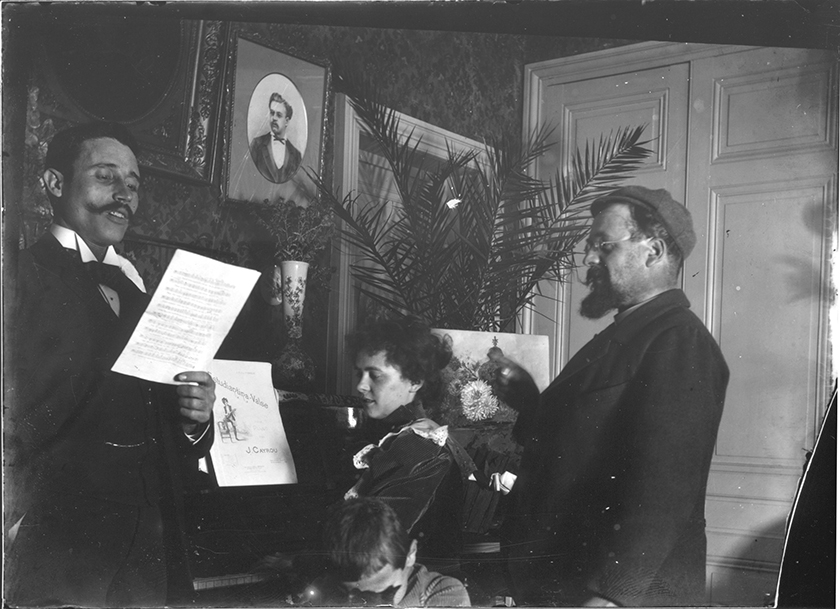 Louis and his daughter Marie-Louise singing.
In 1894, Louis began forging relationships with perfume houses at the Exposition Universelle (international colonial exhibition) in Lyon that year.
From that point on, he started selling citrus essential oils from Sicily, terpene-free essences from Germany and Switzerland, and cosmetic raw materials manufactured by German and Belgian companies. He also started preparing "aromatic compositions" for his perfumer clients: Eaux de Cologne, "crèmes divines" and cold creams, jotting down the formulations in a little notebook. Louis's company may not have been established yet, but his preparations marked the start of Gattefossé's manufacturing activity.
In 1895, Abel Gattefossé turned 18 and began working with his father. Louis's second son, René-Maurice, joined them some fifteen years later after studying Chemistry at the University of Lyon. René-Maurice was responsible for research and production in the company "laboratory", which at that point was a simple lean-to in the garden of the family home in Monchat, a district on the outskirts of Lyon. Abel and Louis were both in charge of sales, however in 1906, Louis retired, leaving the management of the business to his two eldest sons.
Hide